New Pool Construction in Memphis, TN
We build gunite pools, vinyl liner pools, and fiberglass pools in Memphis and the surrounding area. At American Pool Techs our expertise of over 35 years in the pool industry enables us to simplify the complex process of building a pool, making it a seamless experience for you.
Custom Swimming Pool Builders in Memphis
As the leading outdoor inground pool builder in Tennessee, we have established a reputation for not only delivering exceptional pool construction but also providing unparalleled customer service. Whether you seek to create your custom dream pool or require regular pool maintenance, our comprehensive services have got you covered. We take great pride in being the top-rated pool builder, maintenance, and pool service company in the Memphis metropolitan region.
Whether you want to build your dream custom pool or need weekly or monthly pool service, we have you covered. 
Contact us now to schedule your free appointment: 901-755-3000
1380 Old Hwy 51 S, Brighton, TN 38011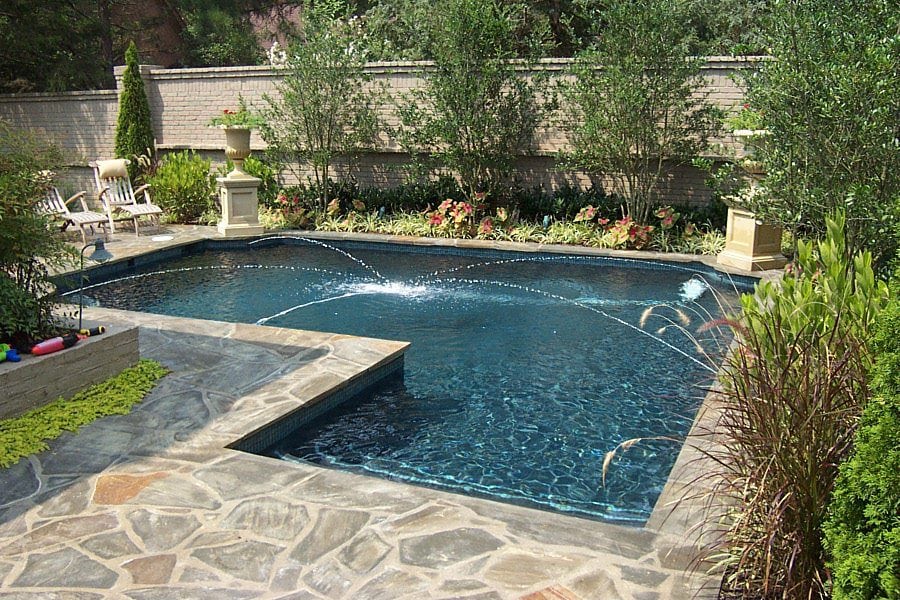 Your Complete Pool Company
When it comes to swimming pools and backyard dreams, American Pool Techs are the local swimming pool builder and pool contractor of choice. We also offer pool service to keep your pool running, and if for some reason something eventually has an issue we can repair your equipment, who better to service your pool that the company who build it. We also offer renovation services for older pools that need a new more modern look. Contact us today whether you are designing a new pool, servicing or renovating an existing pool.
Our Memphis Pool Building Process
American Pool Techs has been honing our pool construction process to provide the most easy and efficient pool building experience. As an American Pool Techs client, you will never be in the dark about what is going on in your backyard. By providing regular communications during each phase of the pool building process, we keep you informed about what's to come. Please take few minutes to familiarize yourself with the stages of our pool construction process below.
Layout
After the pool design process, we stake out your pool. This gives you an idea of how the pool will fit into your backyard so you can be sure of the location and position before we break ground.
Fencing & Excavation
First, we'll remove a portion of your fencing to access your backyard for excavation. We'll then dig out the shape and depth of your pool according to your design.
Plumbing & Equipment
We pressure test our plumbing lines, checking pressure readings multiple times to ensure that all aspects of your hydraulic system are safeguarded.
Electrical
Your new swimming pool is now ready for the electrical equipment, including lights. Our electrical crew will bring in a trencher that will dig a 6-12″ trench from your electric panel to the pool equipment.
Structure & Surface
Your pool's structure is built with reinforced steel rebar, spaced closely together to offer strength and durability. Wiring and electrical pad is then installed. Once the shotcrete is cured, the pool surface is applied.
Hardscape & Decking
Next comes any hardscaping you included in your design (e.g. a gazebo, outdoor kitchen, fire pit or custom water features). We'll then build your pool deck according to your design specifications.
Tile
Our construction crew will install six inches of waterline tile at the top of your swimming pool. This means that three inches of tile will fall below the water, while three inches of tile will be above the waterline.
Interior Finish
After the decorative waterline tile has been installed in your new swimming pool, our construction crew can begin applying the interior plaster or stone finish.
Types Of Pools American Pool Techs Offers
Our team of expert pool technicians have spent many years honing their pool building skills, in order to offer pristinely designed and built pools that are a wonder to the eye. When it comes to building a pool, every homeowner has a different idea of what they want their pool to look like, and where they would like the pool placed. While there are many different types of pools available, not all of them are equally suitable for every home. The right type of pool for your home will depend on various factors such as budget, location, weather, and the intended use of the pool.
Custom Residential Outdoor Inground Pools
If you're looking for an exceptional outdoor inground pool for your home in Memphis, TN, our pool services can provide you with the perfect solution. We offer comprehensive pool construction services catering to every aspect of pool design and construction, ensuring you get a pool that perfectly meets your requirements. Whether you're looking for a classic, elegant design or a more contemporary, modern look, our experienced pool contractors will work closely with you to create a unique and stunning pool design. We use only the highest quality materials, and our construction techniques are the best in the industry, ensuring that your pool is not only beautiful but also durable and long-lasting. Additionally, we offer pool maintenance and service programs that keep your pool running smoothly year-round, so you can enjoy your backyard oasis without worrying about the upkeep. So, if you're ready to take the plunge and add an outdoor inground pool to your home in Memphis, TN, contact us today to schedule a consultation and explore your options with a free quote!
Liners Our Custom Swimming Pool Builders In Memphis Provide
Selecting the appropriate material for the lining is of utmost importance when constructing a new pool. There are several choices available. American Pool Techs specializes in two popular materials for building new swimming pools: gunite pools and vinyl liner pools.
Gunite Pool Liners
For those seeking a durable and long-lasting pool lining material, gunite pool liners are an excellent option. Gunite consists of a sand, concrete, and water mixture. Essentially, gunite is a concrete mixture, with one important difference. While concrete is poured into frames, gunite is applied as a pool liner by using a specialized spray gun.
Additionally, the construction process for gunite pools is simpler than standard concrete pools since they don't require wooden frameworks to maintain their shape. Moreover, gunite pools can withstand significant stress and pressure, providing superior protection for both the pool and the property.
Another significant benefit of gunite pools is their ability to be designed in any shape or size, which allows for a custom fit within your existing landscape, thus reducing the impact on your yard. Customization options for gunite pools are limitless, and unique features such as underwater bar stools, tanning ledges, or waterfalls can be added to enhance the overall look and feel of the pool.
Given their resilience and flexibility, gunite pools provide excellent value for money. If durability and having custom features are a primary concern, gunite may be the ideal option for you. It's never too early to start designing your backyard oasis, so don't wait for warm weather to arrive. Begin your gunite pool liner process by contacting our team of Memphis inground pool installers near you at American Pool Techs. We specialize in custom gunite pool liners, in an effort to provide each of our customers with their very own uniquely designed pool that checks off all their needs and wants. 
Vinyl Pool Liners
Vinyl pool liners are the most popular choice for a good reason. They offer a range of benefits over other materials, including fiberglass, making them an excellent choice for those in the market for a pool in Memphis, TN. 
The installation time of vinyl pool liners is one of their most significant advantages. Compared to other types of pools, vinyl liners can be installed much more quickly. This is a significant advantage over concrete pools, which can take several months to complete. Our custom swimming pool builders in Memphis can have your vinyl pool ready in a shorter amount of time than other pool liner materials, ensuring that you're ready to swim in time for the upcoming season. 
As stated previously, vinyl liner pools also require less maintenance than their fiberglass counterpart. The smooth, non porous surface of vinyl makes it difficult for contaminants such as algae to take hold and cause issues, reducing the need for chemcial treatments. With proper care, these liners can last for many years. According to Angie's List, a vinyl pool liner can last for more than 10 years with proper maintenance and care. However, it is necessary to note that vinyl pool liners may require replacement after a long period of time, especially if they haven't been properly maintained and taken care of. 
Customization options are numerous with vinyl pool liners. They can be custom designed to various shapes, sizes, and colors, allowing you to customize your pool to your exact specifications. You can even customize the depth of the pool, as well as add unique features such as: 
Pool Waterfalls
Pool Fountains
Pool Grottos
Pool Lighting (ex. Fiber Optic & LED Pool Lighting)
Underwater Pool Speakers
Pool Rock Slides
Pool Bars
Pool Water Slides
Pool Steps & Ladders
…Much More
Finally, the smooth surface of vinyl liners makes them more comfortable to use than other materials. Unlike concrete pools, which can cause scrapes and cuts if slips or falls occur, vinyl liners offer a soft, cushioned landing. This makes them an excellent choice for families with young children or anyone concerned with pool safety. American Pool Techs are experts at installing vinyl liner pools. Call us today to get started on your vinyl liner pool design! 
Custom Swimming Pool Builders In Memphis
Are you ready to turn your backyard into the ultimate relaxation spot? Look no further than American Pool Techs in Memphis, TN! Our experienced inground pool installers near you are here to help you every step of the way, from design to installation. We offer a variety of options, including vinyl liner pools, to match your unique style and budget. Plus, our team is dedicated to keeping your pool in top condition for years to come. We provide pool maintenance and cleaning services as well as pool repair services to ensure that you can enjoy your pool for many years to come.
At American Pool Techs, we take pride in being the best pool builder, pool maintenance, and pool service company in the Memphis area. With over 35 years of experience in the industry, we've built a reputation for being the premier pool building in Tennessee. Our customer service is unmatched, and we make the complicated process of building a pool seamlessly. 
Whether you're in need of custom pool construction, pool maintenance, or season pool opening and closing services, we have you covered. Let American Pool Tech help you create the perfect oasis in your backyard. Contact us today or give us a call to get started! 
New Memphis Pool Construction Costs FAQ
What is the average cost of a new Gunite pool construction in Memphis?
The baseline cost for an average-sized Gunite pool starts at $80,000 – $85,000 depending on the size, the features (lighting, waterfalls, or spa areas), and design complexity.
What is the average cost of a new vinyl liner pool construction in Memphis?
The average cost of a new vinyl liner pool construction is $58,000 – $60,000. The cost depends on the pool features you select, design, and size.
Whether you're looking to build a new pool, renovate an existing one, or add outdoor living space to your property, we are here to help. Contact us today to learn more about our services and how we can bring your vision to life. What Clients Are Saying About Our Memphis Pool Company Near You!
From start to finish, the entire process of installing a new pool with American Pool Techs was pleasant. Joel and Jonas are very knowledgeable and provided us with constant communication during all the steps. Our new pool is beautiful! I would recommend APT to anyone considering installing a new pool.
I had American Pool Tech do a complete renovation of my pool in October of 2016. New coping, plaster, tile and stone. They had creative ideas for making my 20-year-old pool look new and they did a fabulous job. They showed up on time every day, cleaned up each day, and the workmanship is wonderful. We are extremely pleased and highly recommend them.
[/db_pb_video]
⭐⭐⭐⭐⭐ "We had been long time users of one of the more prominent pool companies in Memphis for many many years. After our neighbor used American Pool Techs last year we were so impressed that we decided to change to them.... The men who showed up to do the job were courteous, professional and most importantly very knowledgeable and answered all our questions , I would never go back to the other company, I am a American Pool Techs customer for life!! I would recommend them to anyone considering getting a pool, the prices were very reasonable and they have that small town work ethic where they make you feel like you matter. If I could give them 1 million stars I would. Thanks so much for doing such an excellent job." -Misty S. on Google (just one of our 54+ reviews on Google, avg rating 4.4) See more Google reviews of American Pool Techs - Memphis Pool Building & Pool Cleaning.
Let's Start Your Pool Construction Project Today
Fill out the form below and we will contact you for more information about your needs.