Best Swimming Pool Builders & Pool Renovation Services in Jonesboro, AR
For over 17 years, American Pool Techs has proudly served as the trusted choice for pool contractors near you. Whether you seek a newly constructed gunite pool, or gunite pool renovation services including resurfacing, replastering, tile repair & replacement, and coping replacement & repair, we are here to help guide you through the process.
Get A Quote For Your Project
Escape to your private oasis and dive into a world of relaxation that reflects your unique style, transforming your yard space to enhance and complement the unique aspects of your home. At American Pool Techs, we craft and install stunning swimming pools in Jonesboro, Arkansas.
At American Pool Techs, our mission is to bring top-notch service, fair prices, and cutting-edge pool construction, repair, and maintenance services to residents in and around Jonesboro. Our clients are considered family. We take great pride in partnering with you to bring your vision to life. We focus on inspiring, educating, and problem-solving with you every day, guiding you through the latest pool solutions that match your expectations.
Our range of services covers everything you need for your swimming pool:
Custom pool design
Custom pool construction
Pool renovation & remodeling

Pool

resurfacing & replastering

Pool tile repair & replacement 

Pool coping repair & replacement
Consider us your go-to destination for all things related to inground gunite pools and spas in Jonesboro, AR.
As a family-owned business, we understand the importance of creating the perfect outdoor haven in Jonesboro, AR. Your dreams take center stage in our process as we work to bring your vision to life.
If you're not in the market for a new pool, we also offer services for pool remodeling and maintenance. Schedule your appointment: 901-755-3000 or email us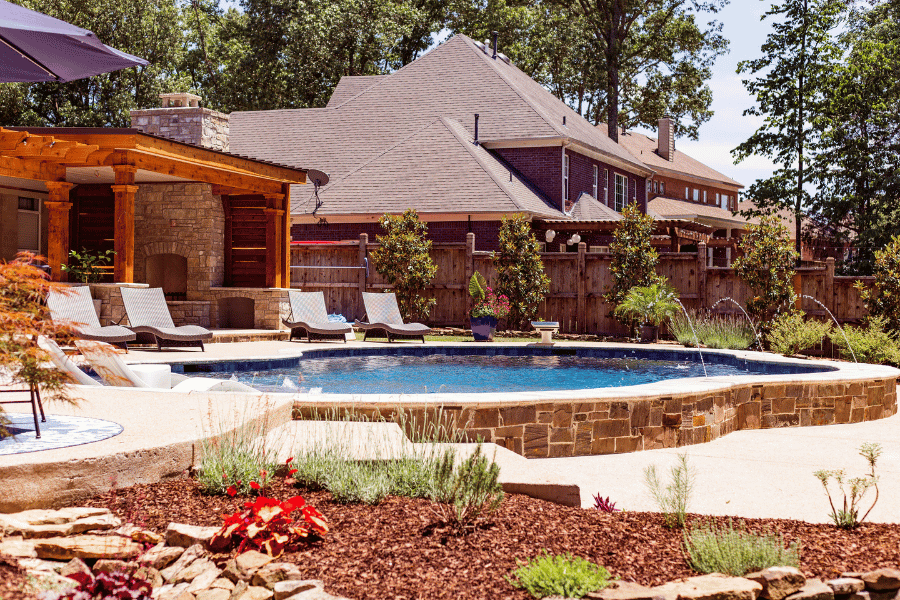 If you're searching for "pool companies near me" and want a top-quality inground swimming pool that will transform your backyard into a luxurious oasis, look no further than American Pool Techs - the premier swimming pool builder and contractors in your area.
American Pool Techs are quality pool remodeling and renovation experts. Our team can transform your backyard into a breathtaking oasis.
We're not just any pool company – we're striving to be the absolute best pool company in Jonesboro, AR. If you've been considering a new pool, updating your existing pool, or maintaining your pool, we encourage you to join us in creating the ultimate pool paradise.
We're here to guide you through the latest pool trends and address your specific needs. Our aim is simple: to stand out as the premier pool company in Jonesboro and continually exceed your expectations.
If you're seeking a pool partner who treats you like family, provides honest prices, and is committed to enhancing your pool journey, look no further than American Pool Techs.
Let's make your pool dreams a reality!
No matter where you are in Jonesboro, AR, turning your backyard into a personal paradise has never been simpler. Reach out to us today to discuss your swimming pool needs with our knowledgeable team.
Our Jonesboro, AR Pool Contractor Services Include:
New Custom Residential Gunite Pool Construction Jonesboro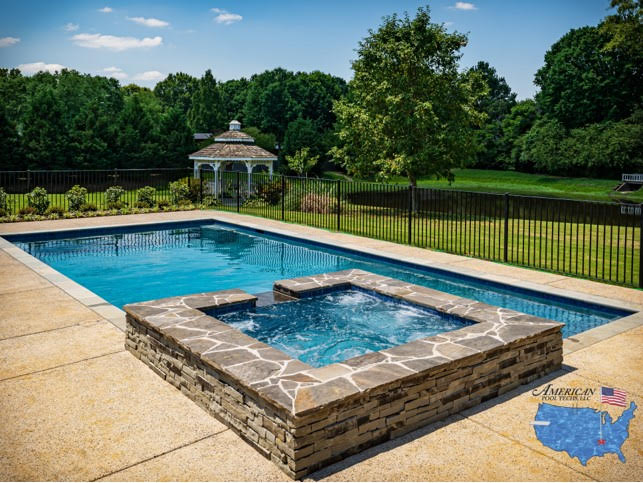 With decades of experience in the pool industry, consider American Pool Techs your go-to expert for custom pool construction of gunite pools in the Jonesboro area.
Our team is committed to simplifying the entire process, ensuring that creating your ideal pool is an enjoyable and stress-free experience. From start to finish, we bring our wealth of knowledge to make your pool-building journey a breeze. We have streamlined the entire pool building process so you can enjoy a seamless and hassle-free journey to your new dream pool.
Discover the ease of new pool construction with American Pool Techs. If you're looking for a new gunite pool in Jonesboro, AR, let us turn your pool dreams into a reality!
Let us bring your pool dreams to life with our decades of expertise. Your ideal pool experience is just a call away. Reach out today to get started on creating your perfect pool oasis in Jonesboro and beyond.
Gunite Swimming Pool Remodeling & Renovation in Jonesboro
American Pool Techs is your go-to expert for pool remodeling in Jonesboro, AR. Our team is here to make your inground pool dreams a reality, providing top-notch services for homeowners seeking a pool upgrade.
We boast a crew of skilled pool technicians, a friendly customer support team, and a hands-on approach that guarantees outstanding results for each project. Our goal is not only to improve the functionality of your pool equipment but also to craft visually stunning designs that will elevate your pool to a jewel of the neighborhood.
Choose American Pool Techs for a refreshing and rejuvenating pool remodel experience in Jonesboro. Your dream pool is just a call away!
For a pool remodeling experience that stands out, trust American Pool Techs – where expertise meets excellence. Contact us today to start your journey to a revitalized pool in Jonesboro, Arkansas.
Gunite Pool Replastering & Resurfacing in Jonesboro, AR
At American Pool Techs, we're experts at making older swimming pools look brand new again! What separates us from other pool companies is our expertise in replastering and resurfacing gunite pools. We're experts at making the inside of gunite and concrete swimming pools look and feel brand new. When the current finish starts feeling rough and not so nice, you can count on us to fix it up.
We have two great options for you. First, there's Marsite, our standard plaster. It's tough, and it looks really good too. It comes in different colors to make your pool look just the way you want. If you want something even more special, you can choose Hydrazo®. It's made of marble, and it gives your pool a shiny, newly polished look.
When we replaster, it's like rejuvenation for your pool, extending the lifespan for another 8 to 10 years. That means your pool will have a smooth surface, making it non-abrasive and more comfortable for your feet. And if you go for Hydrazo®, it's even better – it can last an amazing 15 to 20 years! What's cool about Hydrazo® is that we don't have to take off all the old plaster. We use a special pad to polish the surface and make it look fresh again. This saves time and effort.
We really care about making your pool look great and last a long time. Our goal is to give you a pool that's not only beautiful but also super durable. Trust American Pool Techs for top-notch pool resurfacing that makes your pool both pretty and strong.
Pool Tile Replacement in Jonesboro
When it's time to replace pool tiles, American Pool Techs is your go-to specialist. We highly recommend pairing tile replacement with replastering, especially when tiles are loose or missing. We know that replastering often reveals issues with tiles, and just replacing tiles without replastering can lead to unsightly lines between the new tiles and the old plaster. Our skilled tile technicians aim for perfection, natural-looking small imperfections aside. That's why we suggest a comprehensive approach of both replastering and tile replacement to ensure a smooth and visually pleasing result. Trust our expertise to bring back both the beauty and functionality of your pool.
Pool Coping Replacement in Jonesboro
American Pool Techs also offers pool coping replacement services, focusing on the upper edge that circles your pool. We provide various choices, like cut stones such as travertine marble or natural flagstone coping. The coping sits right on the bond beam above the tile, with its backside acting as the meeting point for the concrete or stone decking.
Keeping the caulk line behind the coping and decking in check is crucial, as this serves as a vital shield against water infiltration, preventing water from getting behind or beneath the coping. This is especially important during freezing temperatures to prevent heaving or damage. Sadly, the importance of the caulk is often overlooked, but it plays a key role in preserving the space between the coping and decking.
Here at American Pool Techs, we take coping replacement seriously, ensuring your pool's edges stay functional and durable. Count on us to provide outstanding results that boost both the looks and strength of your pool coping.
Contact us today to learn more about our services and how we can bring your outdoor living space vision to life.
Jonesboro Pool Company Services We Provide Include: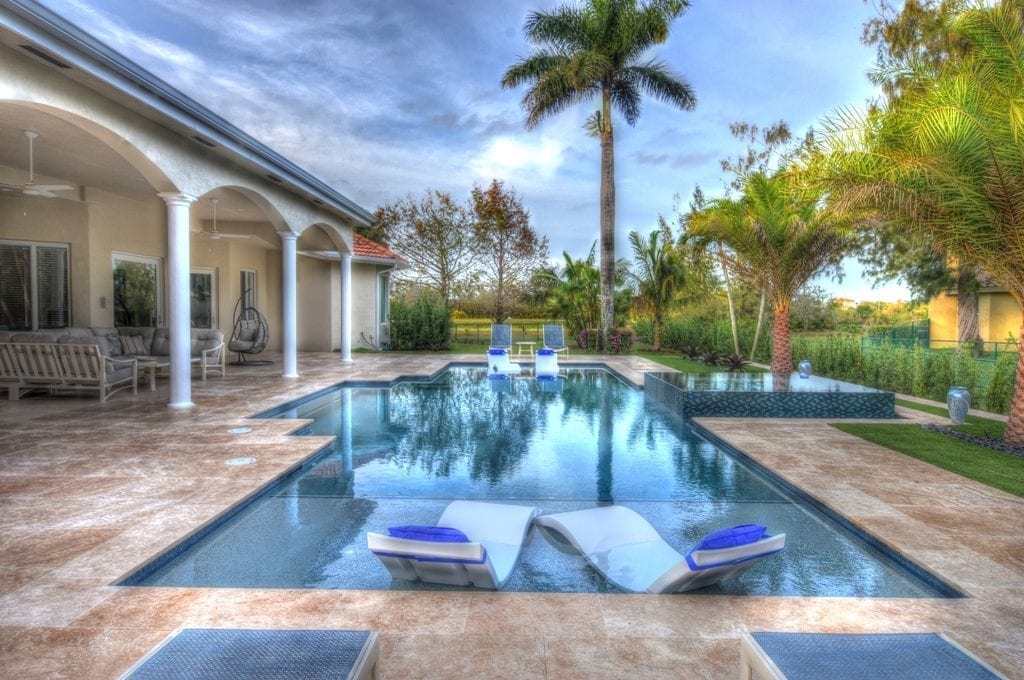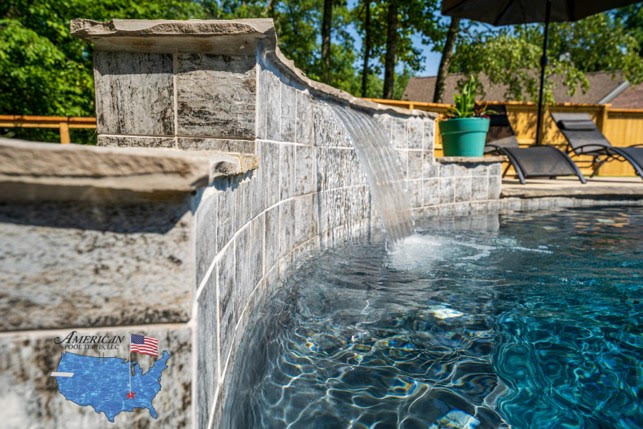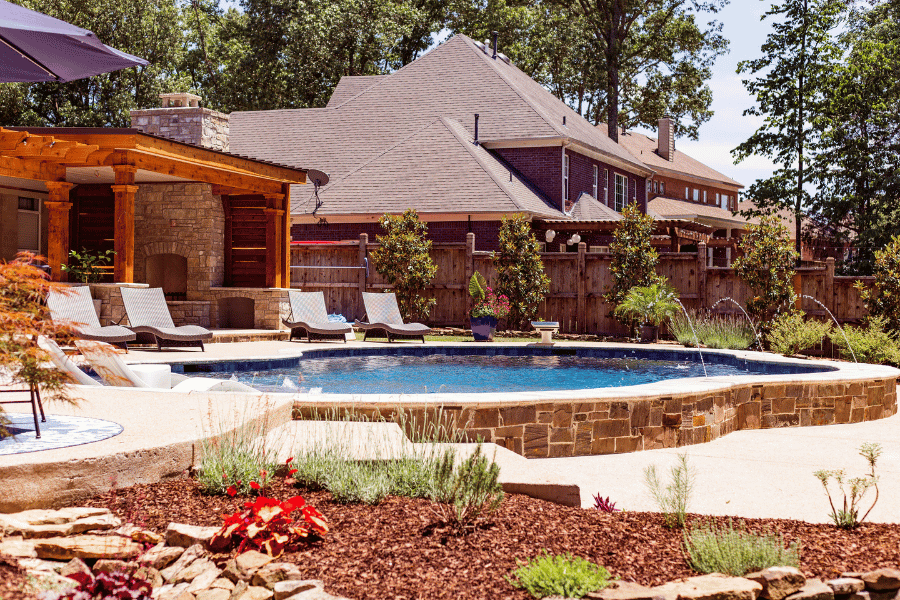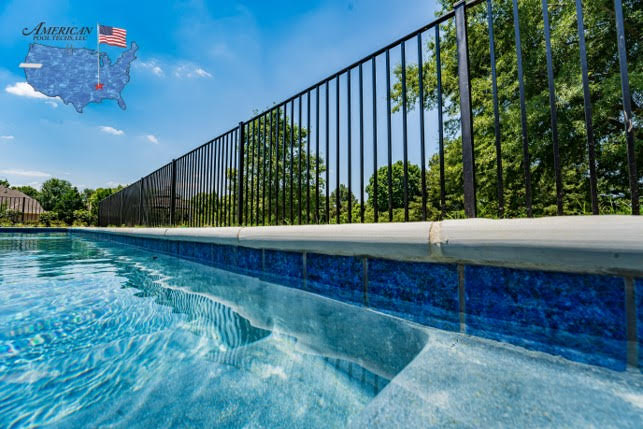 What Clients Are Saying About Our Jonesboro Pool Company Near You!
From start to finish, the entire process of installing a new pool with American Pool Techs was pleasant. Joel and Jonas are very knowledgeable and provided us with constant communication during all the steps. Our new pool is beautiful! I would recommend APT to anyone considering installing a new pool.
I had American Pool Tech do a complete renovation of my pool in October of 2016. New coping, plaster, tile and stone. They had creative ideas for making my 20-year-old pool look new and they did a fabulous job. They showed up on time every day, cleaned up each day, and the workmanship is wonderful. We are extremely pleased and highly recommend them.
⭐⭐⭐⭐⭐ "American Pool Techs was amazing from start to finish. They were always immediately responsive if we had questions. They started construction on our gunite pool earlier than anticipated and finished in about 8 weeks, which was great! Everyone is very friendly and helpful from the owner to the people putting in the hard labor! If we ever needing another pool at a future house, we will definitely be calling and working with them again! I'm so happy we decided to have American Pool Techs complete our dream pool! I highly recommend them if you are looking to have a pool built!" – Emily Foster on Google (just one of our 62+ reviews on Google, avg rating 4.5) See more Google reviews of American Pool Techs.
Contact The #1 Pool Builder & Pool Cleaning Services in Jonesboro, AR
Dive into the world of swimming pools and outdoor bliss with American Pool Techs, your go-to local experts in creating dreamy backyard oases. As your trusted Jonesboro pool builder and contractor, we not only specialize in crafting custom pools tailored to your desires but also provide top-notch cleaning & maintenance services to keep your pool in tip-top shape.
Whether you're envisioning a brand-new pool, seeking maintenance for your current one, or aiming to revamp an older pool, we've got you covered. It all begins with a conversation and planning. We encourage you to contact us today to explore the possibilities of creating, maintaining, or renovating your perfect pool haven and outdoor living space.
Call us at (901) 755-3000 or contact us online to get started today!
Let's Start Your Swimming Pool Project Today
Fill out the form below and we will contact you for more information about your needs.