Memphis Pool Repair Near You
Having pool problems? We get it, it's a bummer. At American Pool Techs, we're here to help fix those issues fast. Whether it's a leak, a broken pump, or a liner that's seen better days, our team has got you covered. We provide pool repair in Memphis, Tennessee and nearby areas. With us on your side, you'll be back to enjoying your pool in no time. Let us handle the tough stuff, so you can jump back into the fun!
Memphis Swimming Pool Repair Services Near You
Look no further than American Pool Techs when unexpected pool repairs threaten to ruin your day of relaxation and enjoyment. Our dedicated team of expert pool technicians is committed to providing swift and efficient solutions for all your pool-related concerns. Whether you live in Memphis or its surrounding areas, our experienced professionals are readily available to diagnose and resolve any pool issue with precision and expertise. From addressing leaks, pumps, and filter problems, we possess the necessary knowledge and tools to restore your pool to its prime condition, allowing you to quickly return to a fun-filled oasis. With American Pool Techs by your side, you can trust that your pool repairs will be handled with the utmost care and proficiency, ensuring you can once again savor the pleasures of a flawless and stress-free pool day. We perform a wide range of pool repair services in Memphis, including the following!
Contact us now for a free quote: 901-755-3000
✓ Pool Inspections & Diagnostics
✓ Pool Pump Repair
✓ Pool Liner Replacement & Repair
✓ Pool Tile Replacement
✓ Pool Coping Replacement
✓ Pool Deck Repair & Replacement
✓ Pool Leak Detection & Patching (ex. Pool Crack Repair)
✓ Pool Heater Repair
✓ Pool Upgrades (ex. Pool Equipment Upgrades)
✓ Pool Automation Controls
✓ Pool Remodeling
✓ Pool Replastering & Resurfacing
✓ Pool Winter Freeze Damage & Fixes
1380 Old Hwy 51 S, Brighton, TN 38011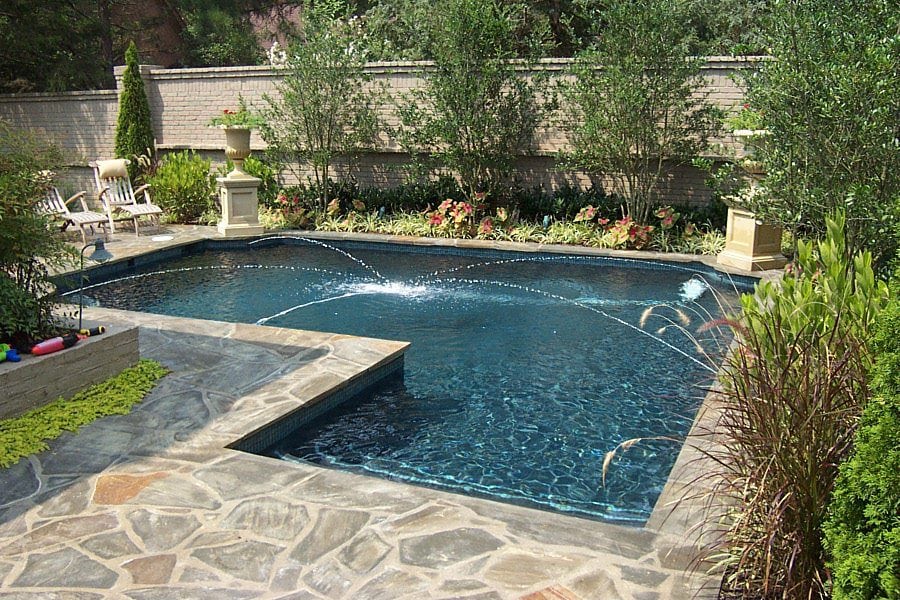 Your Complete Pool Company
Our Memphis Pool Repair Services
American Pool Techs provides affordable pool repair services throughout the greater Memphis area.
Here are just some of the pool repairs we can make:
Pool Inspections & Diagnostics
At American Pool Techs, we offer comprehensive pool inspection and diagnostic services in Memphis to ensure your pool is in optimal condition.
Memphis Pool Inspections
Pool inspections are crucial for home buyers and sellers, as they provide vital information about the pool's condition. Our thorough inspections assess potential underground leaks and structural problems that, if left unnoticed, could lead to costly repairs. For just $300, our skilled technicians spend approximately an hour conducting these inspections, giving homeowners peace of mind during the buying or selling process. We provide an inspection report and a certified inspection letter, aiding negotiations and helping address repairs promptly after the sale.
Pool Diagnostics In Memphis
Our pool diagnostic services focus on equipment pad diagnostics, ensuring all pool equipment functions as it should. When customers report leaks, we perform in-depth inspections to identify the issue accurately. One essential tool we use is the bucket test, which allows us to determine if the leak is in the body of water or the underground plumbing. By placing a bucket of water on the pool steps for three to four consecutive days, we measure evaporation versus water loss in the pool. This process of elimination helps us identify the source of the leak. If the leak is in the underground plumbing, we'll call in a leak detection company. The bucket test saves our customers from premature calls to leak detection companies and ensures a more efficient and cost-effective diagnostic process.
Trust American Pool Techs for top-notch pool inspection and diagnostic services, giving you a worry-free and enjoyable pool ownership experience.
Memphis Pool Pump Repair Near You
At American Pool Techs, we take pride in offering a comprehensive range of pool repair services, including Memphis pool pump repair near you, as well as replacement. Some of the most common services we provide in this area include motor replacements and pool pump motor repair and replacements. Our experienced technicians are skilled at diagnosing and resolving issues with pool pumps, ensuring your pool's circulation system functions optimally.
Whether it's fixing switches, timers, or other electrical components, our team is well-versed in handling various pool pump repairs. Pump seal replacements are another frequent concern, as worn-out seals can lead to leaks and compromised pump performance.
To keep up with the evolving industry trends and promote energy efficiency, we also specialize in installing variable-speed pool pumps. These pumps run at different rates of speed, resulting in reduced energy consumption and cost savings for pool owners. With a strong focus on providing reliable and efficient solutions, American Pool Techs ensures that your pool pump remains in top-notch condition, allowing you to enjoy a well-maintained and energy-efficient pool year-round.
Memphis Pool Liner Repair & Replacement
At American Pool Techs, we offer exceptional pool repair services in Memphis, and one of our specialties is pool liner replacements. We highly recommend scheduling these replacements when the air temperature is 50 degrees or higher. Working in colder temperatures can make the liner stiff and difficult to handle, so timing is crucial for a smooth installation process. Rainy conditions can also pose a challenge, so we aim to avoid excessively wet periods when planning the replacement.
Our pool liner repairs and replacements address various issues, such as leaks, wear and tear due to chemical damage, and tears in the liner. We understand that these problems can cause significant frustration for pool owners, and we are dedicated to providing efficient solutions. Additionally, we specialize in dealing with water table challenges that commonly affect liner pools in the area. When building a pool in an area with a high water table or on a super flat yard, water pressure from saturated ground can cause the liner to bubble up and create unsightly wrinkles. Our expertise allows us to handle such situations and restore the pool's integrity.
For proper care and maintenance, we advise pool owners to maintain their liners on a weekly basis. A well-maintained liner can last anywhere from eight to ten years, with some lasting even longer. Our team at American Pool Techs is committed to ensuring that your pool liner remains in excellent condition, providing you with years of enjoyment and relaxation. Let us take care of your pool liner repair needs, and we guarantee a smooth, hassle-free process that will leave your pool looking pristine once again.
Memphis Pool Tile Replacement
At American Pool Techs, our Memphis pool repair services include expert pool tile replacement to address various issues and maintain the beauty of your pool. We recommend considering tile replacement when you are planning to replaster your pool or when you notice loose or missing tiles. Often, when it's time for plaster, it's also time for tile replacement, as the two tend to go hand in hand. During the preparation for plastering, it's common for tiles to fall off naturally, indicating the need for replacement.
While it is possible to repair a few individual tiles without replastering, it may lead to a cycle of continuous repairs as more tiles could eventually become loose. Additionally, opting for tile replacement without replastering can result in a noticeable difference between the new tiles and the existing plaster, creating an unsightly line of demarcation. Regarding the pool draining, it's not necessary to drain the entire pool for tile replacement. However, the water level will need to be lowered below the tile line to ensure a successful tile installation. For complete pool retile projects, we will typically recommend draining the pool to make the process more efficient and achieve the best results.
At American Pool Techs, we take pride in providing top-notch pool tile replacement services. Our skilled team will ensure that your pool tiles are secure, beautiful, and complement the overall aesthetics of your pool. Whether it's a complete pool retile or addressing specific tile issues, you can count on us to deliver exceptional results without compromising on quality.
Memphis Pool Coping Repair & Replacement
At American Pool Techs, we take pride in offering top-notch pool repair services, including pool coping repair and replacement. Pool coping refers to the top edge around the pool, which can be made from various materials like cut stones such as travertine marble or natural flagstone coping. It sits on the bond beam, right above the tile, and its backside meets the concrete or stone decking. Proper maintenance of the caulk joint behind the coping and the decking is essential, as it protects against water seepage, preventing potential damage caused by freezing and heaving during the winter months.
Our skilled technicians understand the significance of maintaining the caulk line and the integrity of the coping. Depending on the pool's size, the cost of coping repair or replacement can vary, ranging from $700 and above. Regularly monitoring the condition of the coping is crucial, especially before the winter season, when freezing temperatures can exacerbate any existing issues. Look out for cracks in the mortar joints or loose stones, as these signs indicate the need for immediate attention.
Neglecting coping issues will only lead to further deterioration, potentially causing more extensive damage and costlier repairs in the long run. With our expertise and attention to detail, we can assess the condition of your pool coping, recommend the appropriate repair or replacement measures, and ensure that your pool's edge remains safe, aesthetically pleasing, and structurally sound for years to come. Trust American Pool Techs to handle all your pool coping repair and replacement needs with professionalism and efficiency.
Memphis Pool Deck Repairs
At American Pool Techs, our pool repair services extend beyond just the pool itself. We also offer top-notch pool deck repair and replacement services to transform your backyard into the outdoor oasis of your dreams. As a family-owned company, we take pride in delivering comprehensive solutions, and our collaboration with Home Team Roofing and Construction allows us to handle every aspect of your backyard project seamlessly.
Whether you're starting from scratch or looking to enhance an existing area, we can take your backyard from concept to reality. From pool deck repair and replacement to adding pergolas and outdoor fireplaces, we have the expertise and resources to create the perfect outdoor space for you. You can rely on our skilled team to work on these projects independently or in conjunction with pool construction, depending on your preferences. With American Pool Techs and Home Team Roofing and Construction working together, you have the convenience of a one-stop service for all your outdoor improvement needs. So, if you're looking to elevate your backyard experience, just write one check to American Pool Techs, and we'll handle the rest, ensuring your backyard becomes a captivating and inviting retreat that exceeds your expectations.
Memphis Pool Leak Repair & Detection
At American Pool Techs, we take great pride in our comprehensive pool repair services, which include top-notch pool leak detection, repair, and replacement. When it comes to leak detection, our skilled technicians are adept at pinpointing the source of leaks in various areas. One common location for leaks is the equipment pad, where the pool's essential equipment is set. Our experts meticulously inspect this area to identify any issues with pumps, filters, or other equipment that may be causing leaks.
Additionally, we specialize in detecting and resolving underground leaks, which can be particularly challenging to locate. To handle such cases, we work in collaboration with reputable leak detection companies that use advanced technology to identify leaks under the concrete decking or within the underground plumbing. Once the leak's location is confirmed, our team springs into action, skillfully removing the concrete to access and repair the problematic area. Our aim is to rectify the issue efficiently, ensuring that your pool operates flawlessly and without wasting water.
Whether it's at the equipment pad or underground plumbing, our pool leak repair and detection and repair services guarantee a thorough and effective solution. You can rely on American Pool Techs to swiftly identify the leaks and provide the necessary repairs, allowing you to enjoy your pool worry-free and without any water-related concerns. With our expertise and dedication to exceptional service, we ensure your pool remains in excellent condition, providing you with countless hours of enjoyment and relaxation.
Local Pool Heater Repair
Over time, pool heaters can face challenges like pipe degradation, especially if exposed to chlorinated water or imbalanced pH levels. Additionally, cracked headers, which connect the pipes in the pool heater, can lead to leaks, particularly if they're made from less durable materials like plastic. Our team of pool repair experts in Memphis is well-equipped to address these issues and ensure your pool heater operates efficiently year-round. Whether you need regular maintenance or a complete installation, trust American Pool Techs to extend your pool season and provide reliable pool heater repair and replacement services, allowing you to enjoy your pool in any season.
At American Pool Techs, we understand that pool heater repair can often be the most cost-effective solution for pool owners. Replacing an entire pool heat pump can be a substantial expense, ranging from two to five thousand dollars, not to mention the additional cost of installation. Instead of making a sudden, significant investment, consider having us troubleshoot your pool heater. In many cases, the issue may be relatively simple to fix, such as a malfunctioning fan motor. Replacing a part like this can breathe new life into your unit, and our pool heater repair service can efficiently provide the necessary parts and installation. By choosing repair over replacement, you'll likely spend only a fraction of the cost, all while extending the lifespan of your existing pool heater.
Now Is The Perfect Time For Pool Upgrades 
When our dedicated team arrives at your home to perform pool repair and maintenance services, it presents an excellent opportunity to explore potential pool upgrades. Whether you've been contemplating energy-efficient equipment, modern lighting, or aesthetic enhancements like new tiling or decking, our team can discuss and assess these options while ensuring your immediate repair needs are met. This dual approach not only saves you time but also allows you to make the most of your pool investment by enhancing both its functionality and visual appeal. So, while we focus on restoring your pool's health, consider the exciting possibilities of pool upgrades to elevate your outdoor oasis.
Pool Automation Upgrades
Enhance the convenience and control of your Memphis pool with our pool automation upgrade services, seamlessly integrated into your pool repair process. Imagine having all your pool functions, accessible at your fingertips through a smartphone app, including: 
Spillover spas

Lighting

Water features

Heaters

Much More 
Pool automation is a must-have, especially for those with spillover spas, eliminating the need to manually adjust valves from pool to spa mode. With our automation control system, you can effortlessly manage every aspect of your pool without walking over to the equipment pad. 
From turning on the lights to automating water features through electronic valves, you gain the ability to control and optimize your pool's functions effortlessly, making your pool experience more enjoyable and stress-free. At American Pool Techs, we believe that upgrading your pool automation is the perfect complement to our repair services, ensuring your pool operates efficiently and conveniently, all from the palm of your hand.
Other Pool Upgrades For Memphis Homeowners
When it comes to pool repairs or maintenance, American Pool Techs doesn't just fix what's broken; we offer a spectrum of pool upgrades to enhance your pool's efficiency, aesthetics, and overall appeal. 
Stunning Pool Finish

– Elevate your pool's aesthetics and energy efficiency with a new finish. Darker hues not only look beautiful but also absorb more UV energy, reducing the need to constantly adjust the thermostat and saving on energy costs.

Modern Pump Technology

– Upgrade your old pool pump to a modern, variable-speed model. These pumps not only operate more efficiently but also minimize noise, vibration, and energy consumption, thanks to their innovative magnet-based motors.

Optimize Pool Filtration

– Increase your pool filter's size to improve water flow and reduce strain on your pump. This upgrade not only saves energy but also extends the life of your equipment.

Robotic Pool Cleaners

– For hassle-free maintenance, consider investing in a robotic pool cleaning system. These powerful cleaners meticulously clean every nook and cranny of your pool, ensuring it stays sparkling without the need for complex automation systems.

Efficient LED Lighting

– Illuminate your pool with energy-efficient LED lighting. Not only do these lights last longer, but they also reduce energy consumption, especially when used in and around the pool. Enjoy the perfect environment for any occasion with color-changing LED lights.

Pool-Friendly Landscaping

– Enhance your pool area with strategic landscaping additions. Windbreaks created with shrubs or trees can lower heat loss, helping maintain a warmer pool temperature without constantly adjusting the thermostat.
At American Pool Techs, we're more than just repair experts; we're your partners in transforming your pool into a more efficient, visually appealing, and enjoyable oasis. Whether you are looking for pool upgrades, pool remodeling, or even pool replastering services to upgrade your home's pool, look no further than our experienced and dedicated team at American Pool Techs. 
Winter Freeze Damage & Repair In Memphis 
Many homeowners opt to skip professional pool closing services, believing they can handle it themselves. However, this DIY approach often results in winter freeze damage that requires repairs. When this happens, our team of pool techs at American Pool Techs is here to help you get your pool back in working condition just in time for spring and summer. 
Freeze Damage to Piping

– When water freezes, it expands, and this can spell trouble for your pool's piping. During the winter, if any water remains inside the pipelines, it can freeze and cause these pipes to crack or burst, leading to costly repairs.

Freeze Damage to Pool Filters

– Pool filters are vulnerable to freeze damage, especially around the junction between the piping and the multiport valve. Freeze-induced cracks can render the filter irreparable, necessitating a replacement. These cracks are often visible on the tank's surface, serving as a telltale sign of freeze damage.

Freeze Damage to Pool Pumps

– Cracks in your pool pump are a significant concern as they disrupt the pump's functionality. Pumps rely on vacuum pressure to draw water, and any crack will compromise this process. Even if a cracked pump manages to prime, it might operate less efficiently, drawing less water and potentially failing to meet health department turnover requirements.

Other Vulnerable Pool Parts

– Winter weather can stress several other pool components, particularly if proper winterization steps are incomplete or skipped entirely. These vulnerable parts include:

Pool heaters

Pool covers

Skimmers

Filter strainers

Bonding grids

Electrical wiring

Pool lights

Valves

Structural elements. 
Neglecting winter pool care can lead to extensive damage and costly repairs come springtime. To safeguard your pool from winter freeze damage, it's essential to invest in professional pool closing services. Experts ensure that all necessary precautions are taken to protect your pool's vital components. Don't risk expensive repairs and a frustrating start to the swimming season – trust the professionals to properly close and safeguard your pool during the winter months.
American Pool Techs Is an Affordable Memphis Pool Repair Company Near You
There's nothing worse than eagerly planning a day of absolute fun and relaxation in your pool, only to be greeted with the disheartening realization that something needs urgent repair. The anticipation of a joyous time spent in the refreshing water is quickly replaced by frustration and disappointment as you discover a leak, a malfunctioning pump, or perhaps a broken filter. The excitement that once filled the air is now overshadowed by the daunting task of troubleshooting and repairing the issue. Instead of basking in the sun and indulging in poolside activities, you find yourself browsing through DIY repair guides or calling for professional assistance, anxiously hoping to get everything fixed before your precious warm day slips away. It's a bitter reminder that even the best-laid plans can be derailed by unexpected pool maintenance woes, leaving you yearning for a seamless and carefree pool experience once again.
We can help!
Contact us now to get a free quote: 901-755-3000
Contact Us For Memphis Swimming Pool Repair Near You
If you're in need of reliable and professional pool repair services in Memphis, look no further than American Pool Techs. Our experienced team is dedicated to ensuring your pool is in the best possible condition, whether you require repairs, maintenance, or upgrades. We have a wealth of expertise in assisting Memphis homeowners with a wide range of pool issues, from minor repairs to major overhauls. 
Don't let pool problems disrupt your enjoyment – contact us today, and let American Pool Techs take care of your pool, so you can get back to relaxing and making the most of your aquatic oasis.
Count on American Pool Techs for reliable and comprehensive pool closing services in the greater Memphis area. Our expert team will meticulously winterize your pool, including underground plumbing, equipment, and circulation system, to protect it during the winter season. Schedule your appointment today to ensure a worry-free pool closure and keep your pool safe from debris.
For trustworthy and flexible pool cleaning and maintenance services in Memphis, choose American Pool Techs. We offer two service options tailored to your needs: our full-service weekly pool maintenance package covers everything from cleaning to equipment repair and chemical balancing, while our standalone pool and spa cleaning services allow you to choose specific services like chemical treatments and brushing. Schedule your appointment today for a hassle-free pool ownership experience.
With over 35 years of experience, we specialize in Gunite, fiberglass, and vinyl liners pertaining to new pool construction. Our hassle-free process includes precise location staking, excavation, plumbing, electrical installation, reinforced steel structure, shotcrete application, hardscaping options, and interior finishes. Contact us today to schedule your pool construction appointment and turn your dream pool into a reality.
At American Pool Techs, we offer pool equipment repair and upgrade services for efficient pool operation. From motor replacements to sand filter maintenance, electrical repairs, and saltwater system diagnostics, our team handles it all. Contact us today to ensure your pool performs at its best.
Ensure your pool is in optimal condition with American Pool Techs' comprehensive pool diagnostics and leak detection services. Our expert team conducts equipment diagnostics tests and utilizes the bucket test method to identify leaks, saving you time and money. Schedule an appointment today to benefit from our expertise and keep your pool in top shape.
American Pool Techs offers a highly requested comprehensive pool inspection service for home buyers and realtors, providing peace of mind and potential cost savings. Schedule your pool inspection with American Pool Techs today for a thorough assessment of your pool's condition.
Experience the convenience of pool automation control with American Pool Techs. Our smart pool system enables homeowners to effortlessly manage pool functions, such as spillover spas and water features, directly from their smartphone. Say goodbye to manual adjustments and embrace the ease of electronic control.
With a focus on older pools, American Pool Techs offers a variety of options to update your pool's appearance and address structural issues. Trust us to handle the entire remodeling process, delivering a comprehensive transformation that enhances both aesthetics and functionality.
Count on American Pool Tech for reliable and efficient pool liner replacement services. With expert technicians and flexible scheduling, we ensure a smooth replacement process that maintains safe swimming conditions. Contact us today to restore your pool with a new liner and enjoy years of worry-free swimming.
With an average lifespan of 8 to 10 years, American Pool Techs provides durability and aesthetic appeal through Marsite finishes, while our Hydrazo finishes offer a remarkable lifespan of 15 to 20 years and eliminate the need for complete plaster removal. Trust American Pool Techs to deliver high-quality resurfacing solutions that enhance the beauty and longevity of your pool.
For exceptional pool tile replacement services, trust American Pool Techs. Our expert team recommends combining tile replacement with replastering to achieve a seamless and visually appealing outcome, ensuring your pool regains its beauty and functionality.
With a focus on professional pool coping replacement, American Pool Techs ensures the top edge of your pool area is in optimal condition. We offer various cut-stone options and prioritize maintaining the caulk line behind the coping and decking to protect against water infiltration and preserve the perimeter. 
Transform your backyard into a stunning outdoor oasis with American Pool Techs' pool deck repair and replacement services. Our seamless partnership with a trusted sister construction company allows us to handle all aspects of pool deck projects effortlessly, whether you prefer a joint effort or a single point of contact. 

Memphis Pool Concrete Replacement
American Pool Techs specializes in pool concrete replacement to ensure the durability and safety of your pool area. Our skilled team handles the entire process, from removing the old concrete to installing a new, long-lasting surface. 
...and more!
Pool Water Feature Design & Build... examples:

Inground Pool Waterfall Installation
Pool Fountains
Grottos
Pool Lighting (ex. Fiber Optic & LED Pool Lighting)
Underwater Speakers for Pools
Pool Rock Slides
Pool Bars
Pool Water Slides
Pool Steps & Ladders
...Much More

Swimming Pool Concrete Replacement
Landscape & Pool Masonry Work
Outdoor Living Spaces (Landscape Design & Development)
Covered Patios
Pergolas
Outdoor Fireplaces & Fire Pits What Clients Are Saying About Our Memphis Pool Company Near You!
From start to finish, the entire process of installing a new pool with American Pool Techs was pleasant. Joel and Jonas are very knowledgeable and provided us with constant communication during all the steps. Our new pool is beautiful! I would recommend APT to anyone considering installing a new pool.
I had American Pool Tech do a complete renovation of my pool in October of 2016. New coping, plaster, tile and stone. They had creative ideas for making my 20-year-old pool look new and they did a fabulous job. They showed up on time every day, cleaned up each day, and the workmanship is wonderful. We are extremely pleased and highly recommend them.
[/db_pb_video]
⭐⭐⭐⭐⭐ "We had been long time users of one of the more prominent pool companies in Memphis for many many years. After our neighbor used American Pool Techs last year we were so impressed that we decided to change to them.... The men who showed up to do the job were courteous, professional and most importantly very knowledgeable and answered all our questions , I would never go back to the other company, I am a American Pool Techs customer for life!! I would recommend them to anyone considering getting a pool, the prices were very reasonable and they have that small town work ethic where they make you feel like you matter. If I could give them 1 million stars I would. Thanks so much for doing such an excellent job." -Misty S. on Google (just one of our 54+ reviews on Google, avg rating 4.4) See more Google reviews of American Pool Techs - Memphis Pool Building & Pool Cleaning.
Contact Us About Pool Repair Today!
Call us at (901) 755-3000 or email us below and we will contact you for more information about your needs.