Keep your swimming pool in optimal condition with our expert swimming pool service in Memphis and the surrounding areas.
Our Memphis pool services accommodate any budget.
Pool Diagnostics & Pool Leak Detection

Pool Equipment Repairs & Upgrades

Pool Liner Replacements (Vinyl Liner Changeouts)


Pool Deck Repair & Replacement
...and More!
Swimming Pool Concrete Replacement
Landscape & Pool Masonry Work
Outdoor Living Spaces (Landscape Design & Development)
Covered Patios
Pergolas
Outdoor Fireplaces & Fire Pits
We take pride in being the best pool builder, pool cleaning & maintenance and pool service company in the Memphis metro area. We make the complicated nature of building a pool easy and seamless. With 35+ years being in the pool industry we have built a reputation of not only being the premier pool builder in Tennessee, but our customer service is unmatched. Whether you are looking to build your dream custom pool or need weekly or monthly pool service, we have you covered.
Call us now to schedule your appointment: 901-755-3000
1380 Old Hwy 51 S, Brighton, TN 38011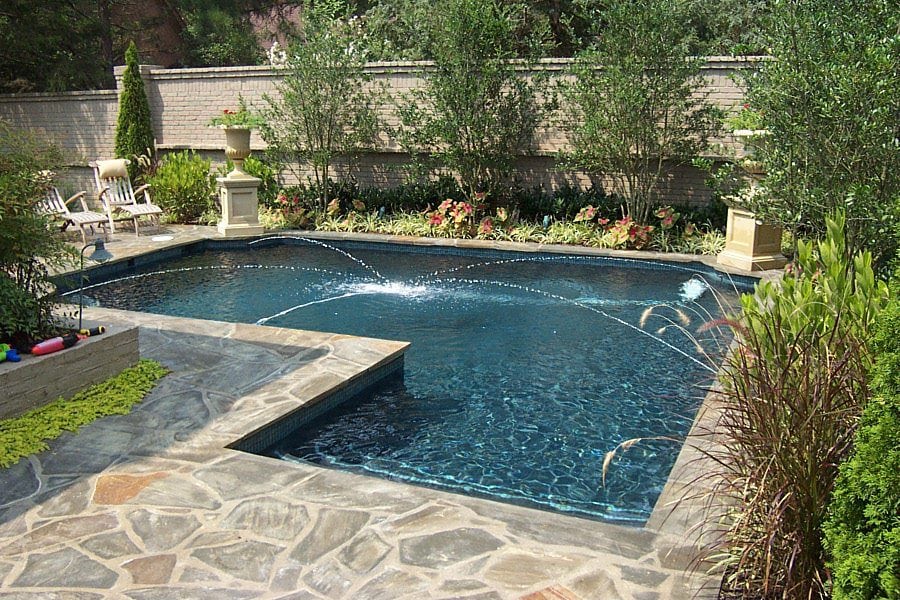 When it comes to swimming pools and backyard dreams, American Pool Techs are the local swimming pool builder and pool contractor of choice. We also offer pool service to keep your pool running, and if for some reason something eventually has an issue we can repair your equipment, who better to service your pool that the company who build it. We also offer renovation services for older pools that need a new more modern look. Contact us today whether you are designing a new pool, servicing or renovating an existing pool.
Pool & Outdoor Space Construction Costs FAQ
How much does a swimming pool vinyl liner change out cost?
Our baseline pricing for swimming pool renovation typically starts at $5,000.
How much does it cost to upgrade to a swimming pool equipment pad?
If you're in need of upgrading your swimming pool equipment pad, we'd be happy to help. Our experienced team can provide you with a high-quality equipment pad that will ensure the smooth operation of your pool.
The baseline price for our equipment pad upgrade services is typically around $2,000. However, the final cost may vary depending on the specific upgrades needed.
How much does it cost to replace the concrete around my pool?
If you're looking to restore your swimming pool area's beauty and functionality, our professional pool concrete deck replacement services are just what you need. The baseline price for our swimming pool concrete deck replacement starts at $12,500. This includes the cost of bringing in fill dirt and any necessary drainage.
How much does it cost to design and construct a pergola near my pool?
We specialize in designing and constructing high-quality pergolas made of cedar or pine, which can enhance the overall ambiance of your backyard space. If you're currently researching the cost of building a pergola near your pool or elsewhere, we offer baseline pricing starting from $8,500.
What is the starting cost of a metal or shingle patio design and construction?
We offer two types of roof options for your patio – a metal or shingle roof. The starting cost for either option typically ranges between $13,000 to $15,000, depending on the size, complexity of the design, and the materials.
How much does it cost to have an outdoor fireplace designed and built?
Our baseline pricing for outdoor fireplaces typically starts at $12,500. We offer professional outdoor fireplace construction services that can help you create a beautiful and functional addition to your outdoor living space. The cost of building an outdoor fireplace can vary depending on factors such as the size and finishing materials chosen.
How much does an outdoor fire pit design and installation cost?
Our baseline pricing for outdoor fire pit design and installation services typically starts at $5,000.
We offer professional outdoor living area design and installation services, including fire pit construction. The cost of designing and installing an outdoor fire pit can vary depending on factors such as the size, style, and materials chosen.
If I need masonry work in my backyard, how much does it cost?
Our baseline pricing for masonry work typically starts at $2,500, depending on the scope and complexity of the project.
Whether you're looking to build a new pool, renovate an existing one, or add an outdoor living space to your property, we are here to help. Contact us today to learn more about our services and how we can bring your vision to life. What Clients Are Saying About Our Memphis Pool Company Near You!
From start to finish, the entire process of installing a new pool with American Pool Techs was pleasant. Joel and Jonas are very knowledgeable and provided us with constant communication during all the steps. Our new pool is beautiful! I would recommend APT to anyone considering installing a new pool.
I had American Pool Tech do a complete renovation of my pool in October of 2016. New coping, plaster, tile and stone. They had creative ideas for making my 20-year-old pool look new and they did a fabulous job. They showed up on time every day, cleaned up each day, and the workmanship is wonderful. We are extremely pleased and highly recommend them.
⭐⭐⭐⭐⭐ "We had been long time users of one of the more prominent pool companies in Memphis for many many years. After our neighbor used American Pool Techs last year we were so impressed that we decided to change to them.... The men who showed up to do the job were courteous, professional and most importantly very knowledgeable and answered all our questions , I would never go back to the other company, I am a American Pool Techs customer for life!! I would recommend them to anyone considering getting a pool, the prices were very reasonable and they have that small town work ethic where they make you feel like you matter. If I could give them 1 million stars I would. Thanks so much for doing such an excellent job." -Misty S. on Google (just one of our 54+ reviews on Google, avg rating 4.4) See more Google reviews of American Pool Techs - Memphis Pool Building & Pool Cleaning.
Let's Start Your Swimming Pool Project Today
Fill out the form below and we will contact you for more information about your needs.