Choosing The Best Pool Installer In Memphis Tn
We are a locally owned business with a combined 35 years of experience in the pool industry.
Pool installers in Memphis have tough competition when it comes to bidding and landing new pool contracts. To be totally up front, there are a range of skilled pool installers that are very good at their jobs in the field. For the customer, this is good news as finding a quality pool construction company is not that hard to do! However, you don't just want a quality pool construction company. When you are signing a contract on a luxury update to your home, you want the pool installer that goes the extra mile. You want the best pool installer in Tennessee! As a company who is consistently adjusting to keep up with the changing demands of the swimming pool industry, we know that it takes quite a bit of work to aim for that best pool installer title. What worked last swim season doesn't always work this season. At American Pool Techs, we fully understand that in order to pride ourselves on being one of the best pool installers in Memphis and Memphis, we must WORK, and we must work hard!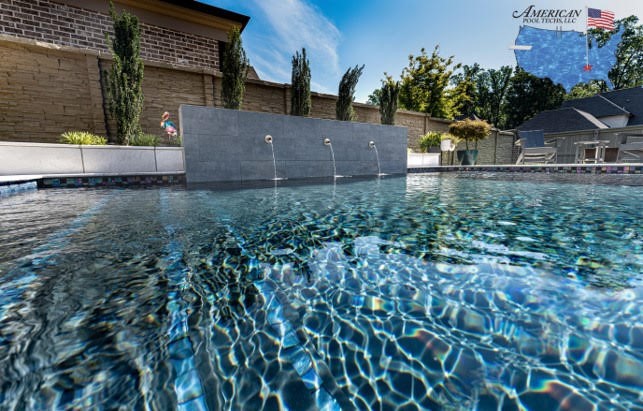 In our last post, we talked about our process from first point of contact, pool design, and everything in between until it is time for a contract. So now that you and your pool installer have hashed out pricing and design, at this point you've got a signed contract and are ready to know what comes next. Most likely you're emailing back and forth with our office team, pairing together colors, scouring through tile websites, researching deck options, and reading every single post and comment in your local swimming pool Facebook group. Sound about right? We've been there. We totally get these are big decisions to make! As a Memphis and Memphis pool installer, we staff our office to accommodate the customer service needed to provide you with help along the way. We are going to walk you through each of those selections, and we promise we will not let a deadline be missed where something should have been ordered. We'll keep you lined out and focused on each feature for upcoming project!
In the meantime, let us go over all the pretty details that you are going to decide on! What style are you thinking for your backyard? You may want a look that is sleek and contemporary? Or perhaps a tropical oasis is more your style? Or maybe you want something geared towards entertaining active and competitive play! I personally love a simple rectangular pool with long steps that run along the width of the entrance, the natural aesthetics of a dive rock, and plenty of room to flip, dive, and race! How you plan to use your swimming pool is going to play a big part in deciding what style and features are most important to you! During the pool design, your pool installer is going to make sure your pool is the focal point of your backyard, regardless of your personal style! We highly recommend you look at our past work photo gallery, which will give you some ideas for your own pool project.
Now that we have been a Tennessee pool installer as long as we have, something I've noticed is each pool is uniquely different than the last! Even when materials like coping, deck, or water features are similar, the completed product is always a unique and beautiful addition to its own outdoor space. A few of the details to be selected with your pool installer are going to be waterline tile, coping, plaster finish and color, deck materials, and water features.
A good tip to remember when making selections is to first decide the water color you aim to achieve. Plaster finishes are truly the heart of the pool, and the color is an evolving shade depending on trees, time of day, and surroundings. Various plaster finishes we offer are marcite, stonescapes, quartzscapes, and hydrazzo. Colors and textures vary depending on which finish you select, and our office will happily go over the variations with you! As a Memphis and Memphis swimming pool installer, we are going to make sure you understand the differences in plaster finishes but also how to protect the investment of your plaster over the years. We will offer support through a scheduled pool school, and if you like we will take care of the weekly maintenance of your pool to ensure the longevity of the beautiful plaster you select.
Along with plaster finishes and colors, picking coping is another big item to select! The coping borders your pool, adding another layer of variation to make your water really pop! Whether you want flagstone, bullnose edge, or straight edge, your pool installer will you point you in the direction of the best option for your pool. Selecting bluestone, limestone, travertine, or even marble coping is going to depend on budget, color, style, and personal preference! But honestly, they are all beautiful options and as Tennessee pool installers we can help you narrow down your decisions based on budget, style, quality, and availability.
For most clients, the hardest detail to select is the water line tile. There are just so many options out there it can feel overwhelming to pick. Our lead guy has always said, "the tile marries the plaster and the coping". And it's true! The water line tile is crucial to protecting your beautiful plaster by keeping the plaster submerged in water. But while functional, it also adds an eye-catching flair to your pool design with patterns, colors, and textures. As pool installers, we support tried and true manufacturers that are known for quality products and excellent customer service. There are several options so you can find just what you are looking for regardless of your style of swimming pool. In our experience as pool installers, we advise the client to select their top five tiles so we can contact our suppliers and find the best quality option available based off the selections.
Regardless of shape, size, and style of pool your installer creates, your individual selections are going to tie the whole project in together. At American Pool Techs, we don't just aim for a sale. We aim to create beautiful pieces of art for you and your loved ones to enjoy for years to come. We encourage you to follow us on Facebook and Instagram for inspiration. But we also invite you to call us, ask all the questions, and even swing by our office for a visit! When picking coping and tile, it is good to get your hands on it and see it in person. We keep close contact with our suppliers and are happy to provide samples for you to look at! We are currently working on an in-house show case area where our clients will be able to drop by and familiarize their selves with our office staff and the materials! We love having visitors and look forward to setting up meetings with each of you! We are thrilled when we get to put a face to a name and love to provide our input on any pool design questions you may have.
And if someone needs more of a visual than photos and samples can provide, we have several clients that are more than happy to schedule a walkthrough of their own pool. Our office will coordinate a time with you and our lead guys to meet and walk every inch of a few of our previous builds. I have said before that our head guy diligently keeps an eye on all platforms of communication, but across the board he plays a vital role in how our company operates as a Tennessee pool installer. He prides himself on having a hands-on approach with every area of our company. When methods need to be adjusted, he actively encourages and leads his team to improve those areas.
We look forward to hearing from you, planning your upcoming project, and (fingers crossed) earning the title of the pool installer you select. If there was an award for "The Best Pool Installer in Tennessee!" then I guarantee we would be making sure we were in the running! Priding ourselves on excellent customer service, we also aim to remain humble in the knowledge that there is always more to learn and areas to improve on. Opportunities provide experience in this, and we hope to be given the opportunity to be the best pool installer for YOU! To Schedule a FREE Consultation please call us at 901-755-3000. What Clients Are Saying About Our Memphis Pool Company Near You!
From start to finish, the entire process of installing a new pool with American Pool Techs was pleasant. Joel and Jonas are very knowledgeable and provided us with constant communication during all the steps. Our new pool is beautiful! I would recommend APT to anyone considering installing a new pool.
I had American Pool Tech do a complete renovation of my pool in October of 2016. New coping, plaster, tile and stone. They had creative ideas for making my 20-year-old pool look new and they did a fabulous job. They showed up on time every day, cleaned up each day, and the workmanship is wonderful. We are extremely pleased and highly recommend them.
[/db_pb_video]
⭐⭐⭐⭐⭐ "We had been long time users of one of the more prominent pool companies in Memphis for many many years. After our neighbor used American Pool Techs last year we were so impressed that we decided to change to them.... The men who showed up to do the job were courteous, professional and most importantly very knowledgeable and answered all our questions , I would never go back to the other company, I am a American Pool Techs customer for life!! I would recommend them to anyone considering getting a pool, the prices were very reasonable and they have that small town work ethic where they make you feel like you matter. If I could give them 1 million stars I would. Thanks so much for doing such an excellent job." -Misty S. on Google (just one of our 54+ reviews on Google, avg rating 4.4) See more Google reviews of American Pool Techs - Memphis Pool Building & Pool Cleaning.
Let's Start Your Swimming Pool Project Today
Fill out the form below and we will contact you for more information about your needs.